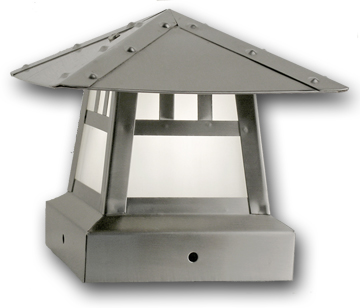 Impress your family and friends with low voltage deck lighting lanterns that make your home stand out from all others. Our deck post lighting comes in a variety of styles, from the super subtle Aurora Eclipse - equipped with four tiny LED lights embedded underneath the cap to gently wash light over the area - to the more dramatic 110 volt Titan brand, shining mightily through ribbed glass.
The Highpoint Torrey's Peak model has an artistic construction and conveys a hand-crafted look while brightening the area with a cozy ambience. We also carry individual post top lighting elements that allow you to create your own special flair in your outdoor space.
Our opalescent Tiffany glass panels allow you to softly spill red, green or blue light throughout the area, making it distinctive and pleasing. Here are some other ideas to try to make a statement in your outdoor space, and make it more enjoyable:
Add planter boxes with colorful blooming seasonal flowers.
Hang a hummingbird feeder - and watch them flock to it.
Dangle a vibrant blown-glass globe and enjoy the sun shining through it.
Attach a smiling ceramic sun to the railings.
Add a gorgeous and comfortable teak chaise lounge set.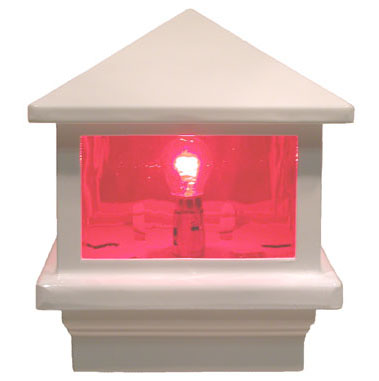 Candles can add romance to any occasion, especially sitting out under the stars with a spouse. We carry a unique model of post top lighting that allows you to convert from solar powered light to candlelight. Just remove the top and insert a candle, and enjoy the warm flicker. This special brand of deck post lighting fits standard 4-by-4-inch or 6-by-6-inch posts and is available in rich copper or stainless steel.
More Information: