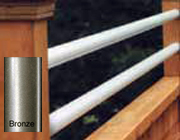 A white picket fence has always been a hallmark of a comfortable home, while subtly providing safety. Our deck rails combine beauty, security and strength - they support the weight of decks and prevent accidents, while adding striking design elements to the overall look of this important addition to your home. Whether this is a weekend project or you've hired a designer and crew, we carry a large variety of railings to choose from. Our aluminum balusters come in traditional, arced and baroque designs. These don't twist or crack like wood, and come with a powder coated finish that requires no maintenance. Once you choose the type best for your project, add solar deck lights. These accents illuminate your space with a soft glow, and are good for the planet.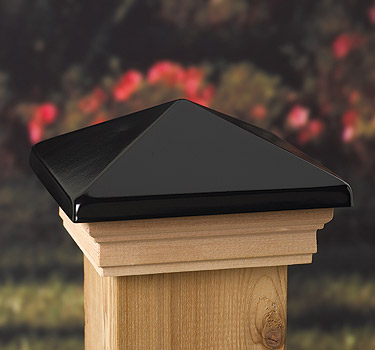 Keep your outdoor living space looking great for years to come. Fence post caps are the smartest way to keep posts from rotting and splintering from exposure to the weather. Don't worry, we've got you covered! Our metal post caps keep snow, rain and the sun's drying rays from damaging your posts. Browse our selection of top quality metals like copper and stainless steel. These covers come in many styles that can match the look of your deck rails. Some styles also provide illumination.
Nothing is more relaxing than sitting outside under the stars on a warm summer evening. Sit back on a chaise and take in the soothing glow of your backyard deck patio lighting. Our inventory is well-stocked with all types of sconces, covers for posts, even models that hang over landscaping beds.
Steps can be illuminated for safety with low-voltage LED deck lights. Browse our stock for an easy-to-assemble kit of 10, complete with connectors, junction box, and remote control.
Today it's vitally important to save energy and keep your electric bill in check.
Our solar deck lights get their power from the constant energy of the sun. This amazing technology has been incorporated into many of our selections. This includes our fence post caps and other products that illuminate pathways, steps and railings without using any electricity. Browse our vast inventory of decking and landscaping materials. You'll find everything you need in deck patio lighting equipment as well as building supplies. Make your back yard a personal oasis. For more information on deck post lighting continue to read our articles.